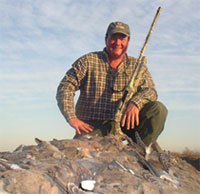 Your hosts, Jim and Melony Roche are experienced veterans in the guiding and outdoor industry. Jim is a licensed "Registered Alaskan Hunting Guide", licensed "Commercial Instrument Rated Pilot", licensed "Wyoming Guide/Outfitter", licensed "New Mexico Guide/Outfitter", licensed "Montana Guide", and veteran "Texas Hunting & Fishing Guide/Outfitter" of 31 years. Jim is also a certified tropaeologist (scorer) for Trophy Game Records of the World.
His personal hunts have taken him to six countries and seven states. In addition to having a full-time guide service he is also a wildlife manager who manages several private ranches in Texas. While Jim presides as President of J&M Adventures, he still manages to follow his dream by personally guiding many of the hunts each year. He spends as many as 6 weeks guiding in Alaska alone each fall.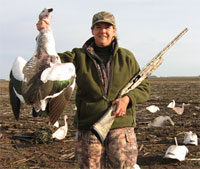 Melony started her hunting career 16 years ago when she met Jim. Since that time she too has traveled to many places in search of trophy game. She has been on 4 safaris to Tanzania and South Africa. She is the Vice President of J&M Adventures and is in charge of managing the office, overseeing six lodges, the chefs and their menus, purchasing of supplies, and she still manages to cook for many of the hunters herself. Melony is a licensed "Alaskan Assistant Guide", licensed "Wyoming Big Game Guide and a licensed guide in New Mexico."